BAFTA Nominated Opening and End Titles for Alex Garland's eight part sci-fi drama "DEVS"
DEVS follows Lily Chan (Sonoya Mizuno), a computer engineer investigating a quantum computing company called Amaya, run by Forest (Nick Offerman). She believes this company is responsible for the disappearance of her boyfriend.
Written & Directed by:

Alex Garland
Executive Producers:

Alex Garland, Andrew Macdonald, Allon Reich, Scott Rudin, Eli Bush, Garrett Basch
Director of Photography:

Rob Hardy, BSC
Music by:

Ben Salisbury, Geoff Barrow & The Insects
Titles Designer:

Matt Curtis
Titles Production:

Matt Lawrence 
The titles for DEVS were designed to reflect the mysterious almost spiritual "god like" feel of the companies quantum computer.
Through a hugely defocused treatment of refractions, flares and bokeh lens effects, you get a sense of the devices constant omnipresence without ever fully seeing. The type also follows this aesthetic, constantly fading and blending between cards. 
The titles were created using supplied 3D models of the quantum computer designed by Artem which were animated and rendered in Cinema 4D then heavily treated in After Effects to create the optical defocusing effects and flares. Reflective glass panels were then layered with this, occasionally reflecting the building, its walls and the typography.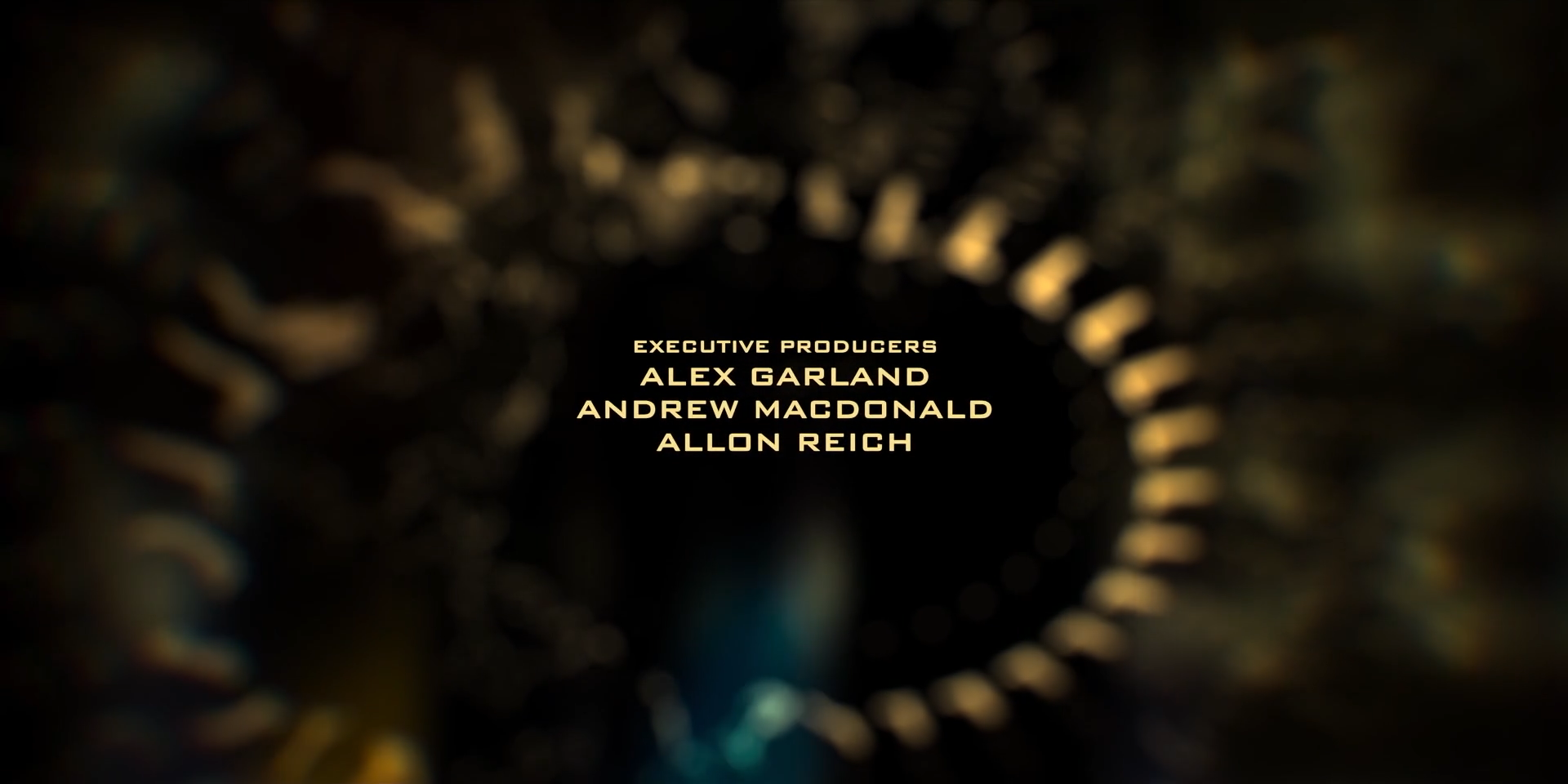 Each of the eight episodes had a unique feel to the titles sequence as the narrative evolved.
Sometimes spiritual, other times positively terrifying.

​​​​​​​
Creating the opening title and main on ends for DEVS was a journey of experimentation with glass panels, refractions, reflections, Mandelbulb fractals and defocused bokeh...  here's a few of the concepts we developed during the early design stages of the project.
It was later decided to keep the sequence more abstract, not revealing too much detail in the backgrounds of the quantum computer or its glass walled environment.
Exploring the world of Menger Sponge fractals as part of early concepts for the main title reveal.
In mathematics, the Menger sponge is a fractal curve. It is a three-dimensional generalisation of the one-dimensional Cantor set and two-dimensional Sierpinski carpet. In DEVS the main buildings floating core is based on this fractal. 
Iterations of the cube we're generated using Mandelbulb3D in early tests.
The blades of the quantum computer were also experimented with in Cinema 4D forming angelic wing shapes. 
Ultimately defocused versions of these were used in the final title sequences.