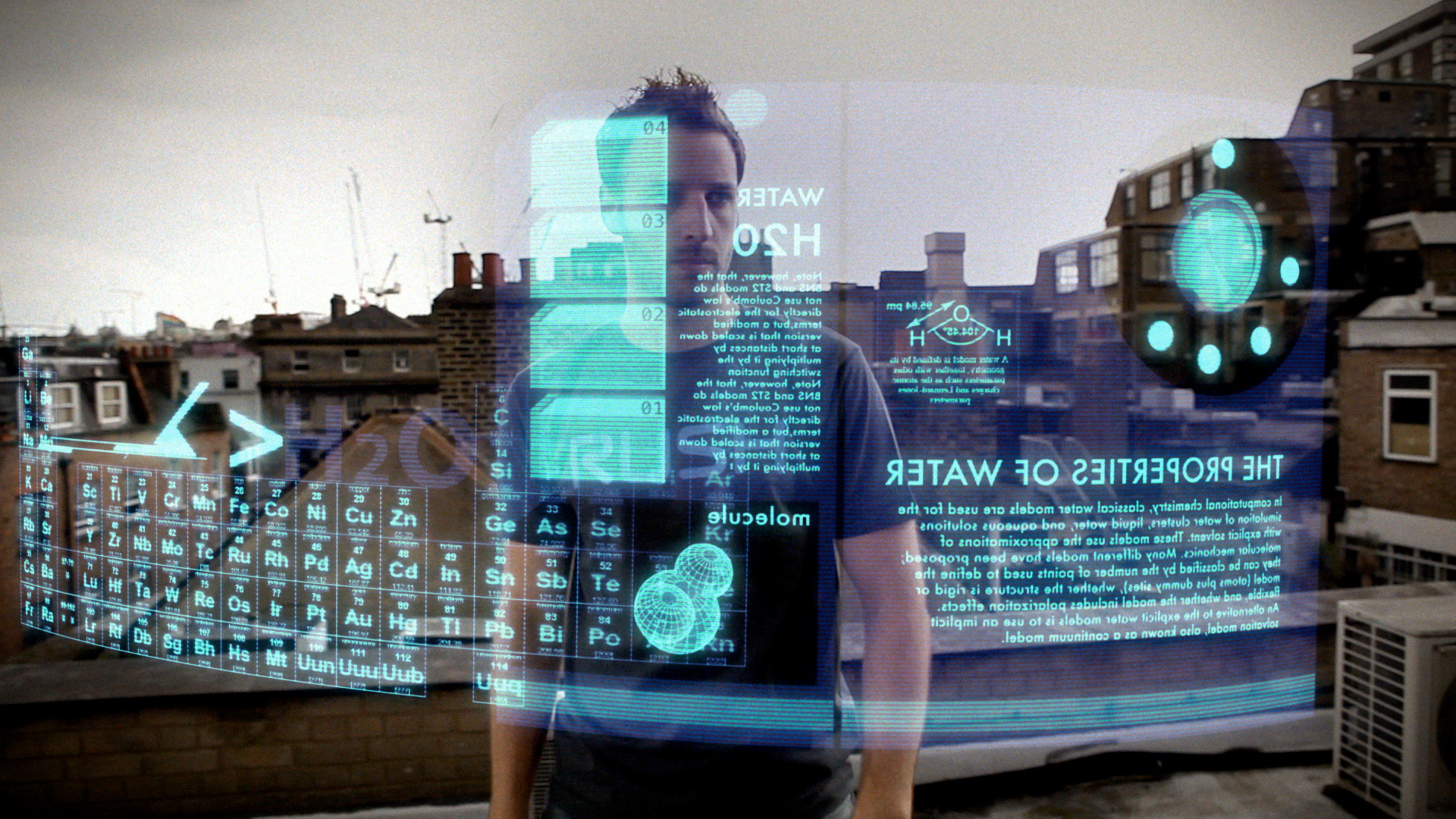 With the furore in the graphics world surrounding Iron Man and the interfaces in the film, when we were asked to produce graphics "in the style of " the whole team jumped at the chance.
Rushes were approached to provide a proof of concept for a new science show that wanted to use heavily treated on screen graphics as info panels to relay information to the viewer. The show was to be very varied in the concepts and items it talked about and the producers wanted a slick stylised way to get that information across.
To start with we used a Canon 5D MkII to shoot an entire sequence allowing the team to provide a cohesive and comprehensive solution to the brief. Using the supplied reference of water as our inspiration the sequence was shot, cut and graded before being brought into various packages to design and comp the graphics and 3D.
Using boujou and PFTrack Seb Barker of Rushes 3D department immediately went to work on tracking the footage to allow the graphics to sit nicely in the shot, while the mgfxstudio team started to design and animate screens and interfaces which would later be comped in. "The final edit could be nicely broken into three main segments which meant each designer had their own section and interface to design and animate. It's always fun when jobs like this come in, it lets your creative ideas flow a bit more and allows you to try a few more things than perhaps normally you would in a standard working day".
Once Seb had solved as much of the 3D tracking as was possible he then went to work on modelling the water molecule. Using Maya and shake he built and animated photorealistic water elements to work with the edit whilst also providing a graphical transition allowing the studio teams graphics take over.

"We used bits and pieces we had from our own archives, stuff we wanted to use but couldn't, or things that we hadn't fully finished but had a nice concept, the stuff that all designers have in the bag for a rainy day, put them into the pot, gave them some polish and saw what came out. In the end it was a mixture of these bits and bobs, new designs and concepts and the need for interaction that drove each animation sequence. We also had to bear in mind that these screens needed to be relevant. They had to have a distinct look but also had to make sense as well as interact with the footage."
The end result was a nicely finished, stand-alone piece that we think really works. It is rare to get a chance to work on a totally free concept with merely a reference point as a brief, and to finish an entire sequence, from filming, editing, grading, through 3D and 2D tracking, concept design, 3D and 2D animating and on to compositing and delivering in less than a week is a feat in itself, but to do it to this standard highlights the whole teams talent and flexibility.
Title: Data Animation Tests
Product: Curiosity
Producers: Warwick Hewett, Louise Hussey
Post Facility: Rushes
Canon 5DMkII Cameraman: Adam Watson
Acting Direction: Seb Barker
Acting Talent: Brad Le Riche
3D Animation: Seb Barker
Shake: Seb Barker
After Effects: Brad Le Riche, Barry Corcoran, Matt Lawrence
Additional C4D Animation: Matt Lawrence