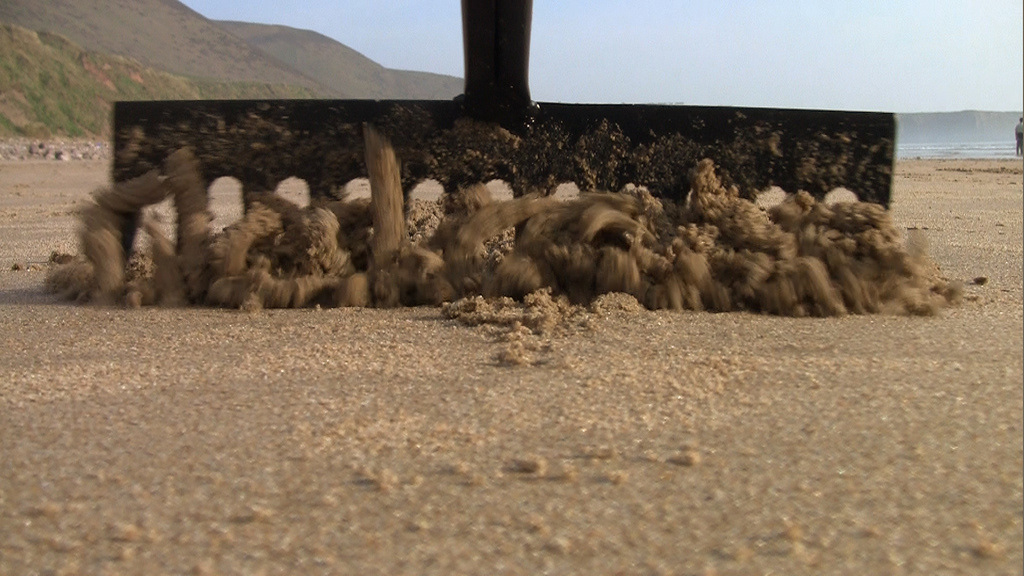 Design. Construct. Create.
Summer 2011, it's a sunny day in Wales and on a glorious stretch of beach in the Gower Peninsula Matt Lawrence, Lead Creative at Rushes MGFX Studio, was commissioned to team up with land art collective, blackprojects to create a real massive scale sand version of the legendary Rushes logo.
The sculpted design is the main star of the Rushes Sand Ad Campaign to show the breadth of skills of the newly expanded MGFX Studio. Design. Construct. Create. Literally!
Weeks of planning were involved to find both a suitable location with perfect conditions of flat sand and tidal movements and also to create a scaled constructional plan to work from of the Rushes logo. Matt Lawrence, Head of MGFX Studio explains, "The coastal location of Rhossili Beach was chosen for having perfect conditions for our sand art. Bikes & bike trailers were loaded with the construction kit, cameras, rakes, food and construction team (the kids). Then we cycled out a good mile to get a nice clean section of beach to ourselves."
Three and a half hours later the design was finished with the manpower of three sand artists, Matt's son James and their rakes. Matt continues, "Inevitably land art creates attention so throughout the construction process we had a small audience of fishermen and children who seemed totally baffled by our activities. The end result is a huge success, one that draws wows of amazement. The final design measured a whopping 53 x 40 metres, making it visible from miles away, even from the top of the coastal cliffs far behind the sand dunes. The design lived for a total of 48 minutes which gave us just enough time to take beautiful photos and shoot our film as the sun went down and we watched the sea wash away all our hard work."
Title: "Sand Rushes"
Product: Rushes Sand
Production Company: Rushes / blackprojects
Construction Diagram: Martin McKinney
Sand Artists: Martin McKinney, Matt Lawrence, James Lawrence
Photography: Martin McKinney, Matt Lawrence, Michaela Taylor, James Lawrence
Rake Cam Operator: Martin McKinney
Child Control: Michaela Taylor
Additional Sand Castles: Oliver Lawrence
Post Facility: mgfxstudio @ Rushes
Editor: Matt Lawrence
C4D: Matt Lawrence
After Effects: Matt Lawrence
Colourist: Jack McGinity
Music:
Sphäre by Kollektiv Turmstrasse - click through to hear more:
connaisseur-recordings.com